Listen to Nature Almanac
on KGNU Radio,
88.5 FM, 1390 AM
on the first Friday of every month at 8:06 am
Click for these KGNU
February Nature Almanac Shows:

Each show runs about 3.5 minutes. The mp3 files are about 3.5 MB; the time to load depends on your connection speed. Problems? Click here.
Boulder Weather
Avg. High: 46° F
Avg. Low: 22° F
Max. High: 78° F (1954)
Min. Low: -28° F (1936)
Avg. Precip: 0.78"
Max. Precip: 2.44" (1987)
Average Snow: 10.8"
Max. Snow: 28.8" (1997)
Max Wind 100 mph (1970)
February Wildflowers
Click for larger images

Oregon Grape
Mahonia repens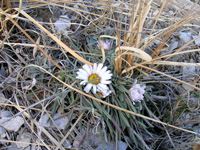 Early Easter Daisy
Townsendia hookeri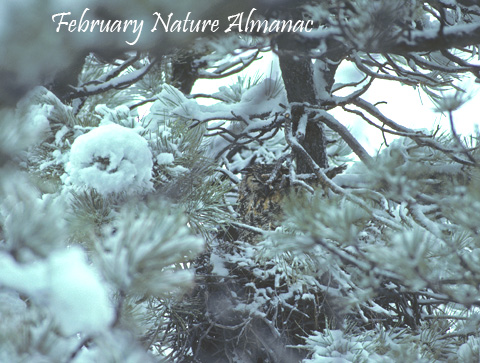 Great Horned Owls begin nesting during the heart of winter. A pair using this old magpie nest on Marshall Mesa fledged 3 young in late April.
During the coldest time of the year, when trees are still bare and the ground still frozen, Great Horned Owls begin an activity usually associated with spring--the selection and preparation of nest sites. Some pairs on the plains lay their eggs as early as mid-January, and most are incubating by late February.
Early nesting benefits these owls in a number of ways. First, they have their pick of nests used the previous year by hawks, crows, or magpies (owls don't build their own nests). Second, their young fledge in late spring, when rodents they prey on--including prairie dogs, cottontails, and mice--are readily available. Finally, if the first nesting attempt fails, they have ample time to try again.
Great Horned Owls also nest in tree hollows and on building ledges. These cosmopolitan predators have proliferated in Boulder County since European settlement, often at the expense of more specialized birds such as Burrowing Owls and Long-eared Owls. Though most visible on the plains, where their cat-like faces and ear tufts protrude from hawk nests situated high in leafless cottonwoods, they nest in every ecosystem except the alpine tundra.
Other February Events
Red Foxes and Gray Foxes mate.
Flocks of Mountain Bluebirds arrive from the south.
Golden Eagles (cliffs in foothills) and Bald Eagles (cottonwoods on plains) refurbish nests in preparation for laying eggs.
Mourning Cloak butterflies emerge from hibernation in bark crevices of aspens and cottonwoods.
Western Meadowlarks and Canyon Wrens begin singing.
February 2014 Events
February 2: Candlemas. This festival of lights, a precursor to Groundhog Day and Valentine's Day, honors the stirrings of new growth and passion that accompany the waxing light of late winter.
February 3: Full moon. Early Native Americans calls this the Full Snow Moon because the heaviest snows of the winter often fall at this time. They also called the Full Hunger Moon as hunting was difficult at this time of year.
Frost Sparkling in the Sun (Arapaho)
Raccoons (Lakota)
When the Geese Come Home (Omaha)
All photos: Steve Jones
Read Ruth Carol Cushman and Stephen Jones's Nature Almanac column in the Daily Camera "Get Out" section the first Friday of each month: Coons croon during 'Raccoon Moon" ; A winter walk along Clear Creek Trail, Wheatridge Greenbelt
Click logo for KGNU on the Web