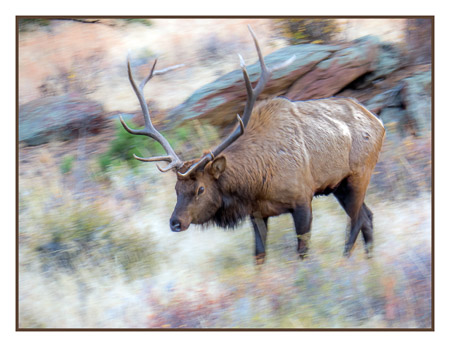 An elk waking through Moraine Park in Rocky Mountain National Park. To learn more about the elk in Boulder County,please listen to Steve Jones and Ruth Carol Cushman describe the wild elk herd near Coal Creek Canyon on the KGNU Nature Almanac for March. These short nature almanacs are broadcast on KGNU Radio, 88.5 FM, 1390 AM on the first Friday of every month at 8:06 am.
For more information about BCNA see the latest BCNA Buzz, BCNA Newsletter, or join us on Facebook!
You can now buy books and CDs directly from BCNA! See what we have to offer at our new online bookstore. You can also purchase books and CDs at the Boulder Wild Bird Center, Boulder's Harlequin's Gardens, Wild Bear Science Center, in Nederland, Wild Birds Unlimited in Arvada and Denver, the Butterfly Pavilion in Westminster, Front Range Birding Company in Littleton, McDonald's Bookshop in Estes Park, and other discerning retailers in our area.
Upcoming Events
BCNA has a new schedule of classes for this winter. At this point, all classes are full. However, you can still request to be put on the wait list in case a spot opens up.
Why is a rose a rose and not a mustard? Using similarities and differences to identify wildflower families
Join Dot Fears and Claudia VanWie to hone your wildflower identification skills! This short course will introduce and review the patterns and similarities of several of the local early season wildflower families followed by a hike to practice with the wildflowers we find. This will be a great way to start enjoying the new wildflower season! Meet Saturday, May 2, at 9 AM – noon at the Rabbit Mountain trailhead northeast of Lyons on North 55th Street. Be prepared for a muddy trail and typical May changeable weather. We will provide morning treats and ask you to bring your own drinks. Please register by sending an email to
BCNAhikes@bcna.org
Flower Adaptations to Harsh Environment
Strong winds, intense sunlight, short summers. How do so many plants survive and bloom so vigorously?  Join Dot Fears and Claudia Van Wie as we look at various strategies local wildflower have developed to survive in our sometimes challenging environment.  We will observe these adaptations first hand as we climb Caribou Hill and revel in the variety and abundance of wildflowers on this rocky, windblown hilltop. Bring your lunch and beverage for a picnic break to take in the views. Meet Sunday, June 28, at 9:00 AM at the Park and Ride in Nederland.  We will carpool up to Caribou Townsite on a dirt and gravel road suitable for 2 wheel drive vehicles, returning to Nederland at 1 pm.  Wear sturdy shoes, bring a warm jacket and rain gear for unpredictable weather at 10,000' elevation. To register, email BCNAhikes@bcna.org. Please let us know whether you plan to meet us at the Park and Ride in Nederland (9 am) or at Caribou townsite (9:30 am).
Nature-Net
Nature-Net is BCNA's email forum for announcements of classes and trips and discussions of many topics relating to Boulder County's natural environment. Nature-Net subscription information.