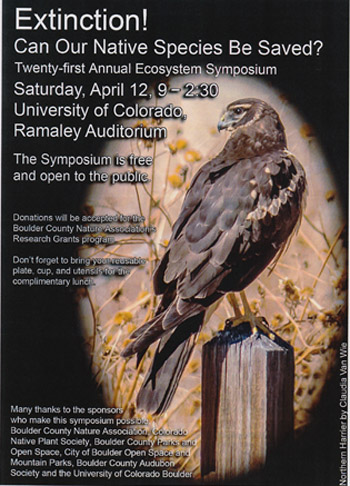 The Boulder County Nature Association (BCNA) is a private, non-profit, publicly funded organization committed to preservation of the cultural and natural history of Boulder County and adjacent areas of the Colorado Front Range.
We conduct and support natural area studies, flora and fauna studies, historical research, wildlife inventories, and geological research.
We also disseminate natural and cultural history information to the public through nature hikes, classes, slide programs, publications, seminars, support for interpretive facilities in Boulder County, and an annual symposium on the status of Boulder County ecosystems.
We work with the Boulder County community to manage our local ecosystems so that they are sustainable and healthy.
Upcoming Events

April 12, 2014: Ecosystem Symposium on Extinction -- Can Our Native Species Be Saved? The symposium will focus on research being conducted in Boulder County and the surrounding area and the implications for management. Agenda for the symposium.
May 8, 10, 24: Breeding Warblers of the Boulder-Denver Area class with Paula Hansley
May 11: BCNA board meeting at 3 pm at OSMP south conference room (66 S Cherryvale Rd). All are welcome to attend. NOTE: Board meetings are scheduled for the second Sunday of odd-numbered months.
For updates and more information see The BCNA Buzz and the latest newsletter.
Monthly Nature Almanac

KGNU features a short program with Steve Jones and Ruth Carol Cushman on the first Friday of every month. For each program, they visit a Boulder County nature site to record sounds there and discuss topics of interest. They are also the authors of Wild Boulder County: A Seasonal Guide to the Natural World.
The programs are archived by month, with information about events happening in the natural world in Boulder County for that month.
February 2014 Audio: Intersection ravens
February Seasonal Events in Boulder County
Subscribe to the Nature Almanac Podcast. It's also available in iTunes.
Nature-Net
Nature-Net is BCNA's email forum for announcements of classes and trips and discussions of many topics relating to Boulder County's natural environment. Nature-Net subscription information.