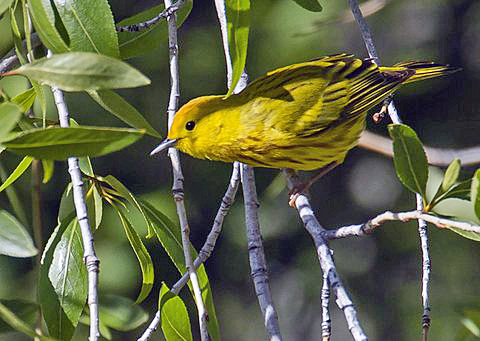 Yellow warbler. Photo by Leslie Larson.
Listen to Steve Jones talk about warblers found in the Boulder County foothills during in the KGNU Nature Almanac for July. These short nature almanacs are broadcast on KGNU Radio, 88.5 FM, 1390 AM on the first Friday of every month at 8:06 am.
Learn more about BCNA
BCNA Publications
You can now buy books and CDs directly from BCNA! See what we have to offer at our new online bookstore or buy them at many local stores.
Register for new summer and fall classes!
Dragonflies and Damselflies: The Ancient Winged Hunters
Mastering the Many-morphed Red-tail and Learning to Love Our Most Ubiquitous Buteo in the Process!
Winter Tree and Shrub ID. What? No Leaves, No Flowers?
Details and registration
Calendar
BCNA Hikes and Mini Classes
August 15: Birds and Insects of Boulder's Tallgrass Prairies. Details
BCNA Board Meeting
The next BCNA board meeting will be September 13th at 3 pm at City of Boulder Open Space building on Cherryvale. All are welcome to attend.
Grant Applications
Applications for grants for projects consistent with our mission are due no later than February 15, 2016. For descriptions of past research projects funded by BCNA, and for a description of the proposal process, see http://bcna.org/grantapplications.html.
Nature-Net
Nature-Net is BCNA's email forum for announcements of classes and trips and discussions of many topics relating to Boulder County's natural environment. Nature-Net subscription information.