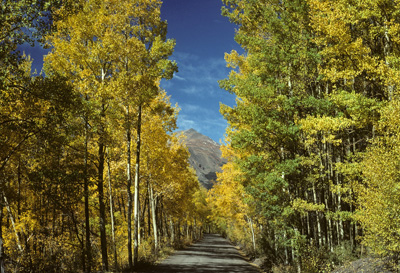 Aspen and Arapahoe Peak. Photo by Steve Jones. To learn more about aspen groves in the fall, listen to the KGNU story, An aspen grove in October.
For more information see the latest BCNA Buzz, newsletter, or join us on Facebook!
The Boulder County Nature Association is a private, non-profit membership organization committed to preserving the natural history of our region through research, documentation and public education.
We conduct and support natural area studies, flora and fauna studies, historical research, wildlife inventories, and geological research.
We also disseminate natural and cultural history information to the public through nature hikes, classes, slide programs, publications, seminars, support for interpretive facilities in Boulder County, and an annual symposium on the status of Boulder County ecosystems.
We work with the Boulder County community to manage our local ecosystems so that they are sustainable and healthy.
Current Events

Sunday, October 26: BCNA board of directors retreat
Sunday, November 9: BCNA board meeting from 3-5 pm at the OSMP offices on Cherryvale Road. All are welcome to attend.
For more events, please see the listing in the Newsletter.
Monthly Nature Almanac
KGNU features a short program with Steve Jones and Ruth Carol Cushman on the first Friday of every month. For each program, they visit a Boulder County nature site to record sounds there and discuss topics of interest. They are also the authors of Wild Boulder County: A Seasonal Guide to the Natural World.
The programs are archived by month, with information about events happening in the natural world in Boulder County for that month.
October audio: An aspen grove in October
Just in time for fall bug hunters!
You can now learn about dragonflies of the Colorado Front Range from this beautiful and colorful new 112-page publication of the Boulder County Nature Association. Check the BCNA BUZZ to see how and where you can purchase your own copy of Dragonflies of the Colorado Front Range by Ann Cooper.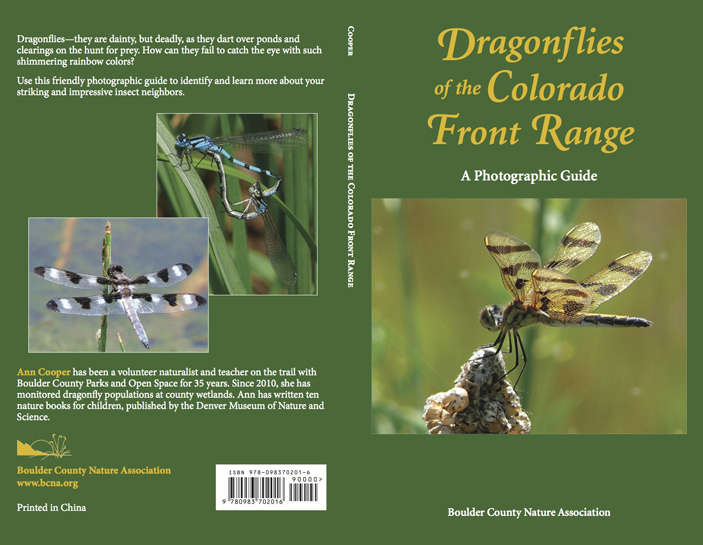 Nature-Net
Nature-Net is BCNA's email forum for announcements of classes and trips and discussions of many topics relating to Boulder County's natural environment. Nature-Net subscription information.